Caldwell House was constructed in the 1770s and was owned by the Mure family until 1909. It was converted into an insane asylum in 1927 and remained so until 1985.
We love hearing about people's adventures exploring abandoned places, so we were thrilled to hear from Lewis Neilson. On Twitter, he can be found at @neilson lewis. His account of Caldwell Residence in Uplawmoor, East Renfrewshire, Scotland, is below.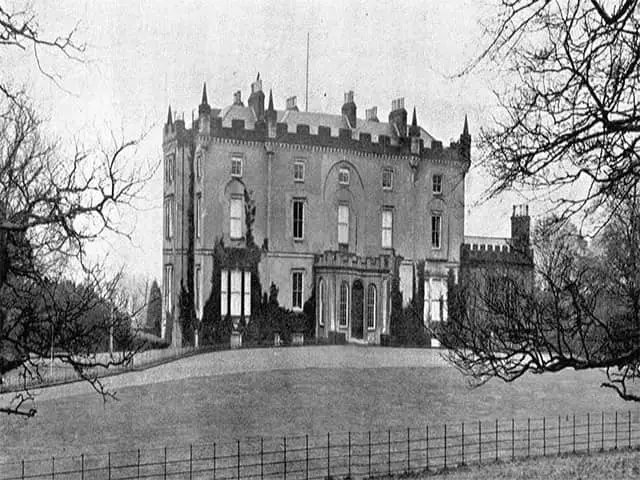 Caldwell House was a country estate designed by famous Scottish architect Robert Adam that was built in 1771. It was converted into a hospital for the treatment of children with mental illnesses in 1927 and remained in use until 1985, when it was closed.
Following this, it was purchased by a private owner who intended to convert the house and other buildings on the estate into a nursing home; however, this never materialized, and the main house burned down in suspicious circumstances in 1995.
The buildings deteriorated quickly, and after 15 years of exposure to the elements and local pikeys, the main structure is now a crumbling shell.
Caldwell House was constructed between 1770 and 1773, although the exact date is unknown. The house was built for the Mure family, one of East Renfrewshire's wealthiest families. The estate was kept in the family until 1909.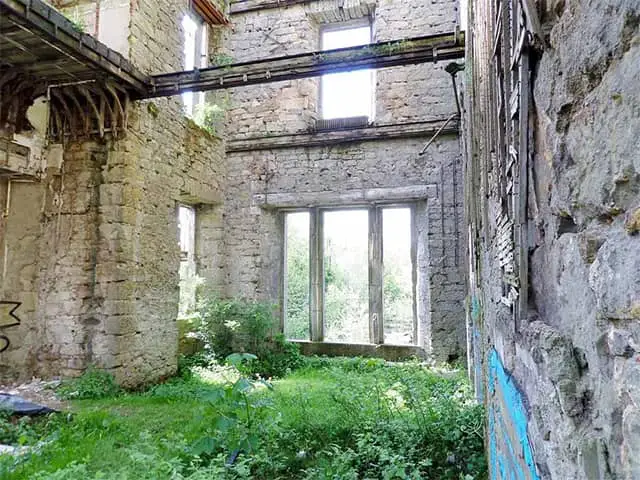 3-story and basement symmetrical mansion house with a rectangular plan. 5-bay front entrance with later wide, projecting porch; 7-bay garden elevation; 3-bay side elevations NW later received a single-story wing and a laundry addition. Machicolated and crenellated parapet with distinctive pepper-pot angle bartizans.
Harled with ashlar dressings; ashlar porch; all window frames with label moulds; band course among ground and first floors. There is little original glazing left (originally 24-pane timber sash and case windows, attic 12-pane). Grey slate piend and valley roof, partially collapsed; ashlar stacks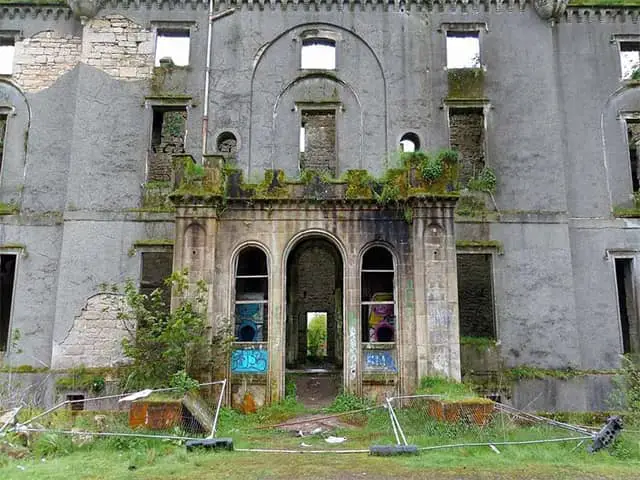 Caldwell House was converted into a hospital for children with mental health problems by the Govan Health Board around 1927, and it remained so until 1985. During this time, new buildings were constructed, including the main boiler house and nurses' quarters. The main staircase was also replaced with just an elevator shaft.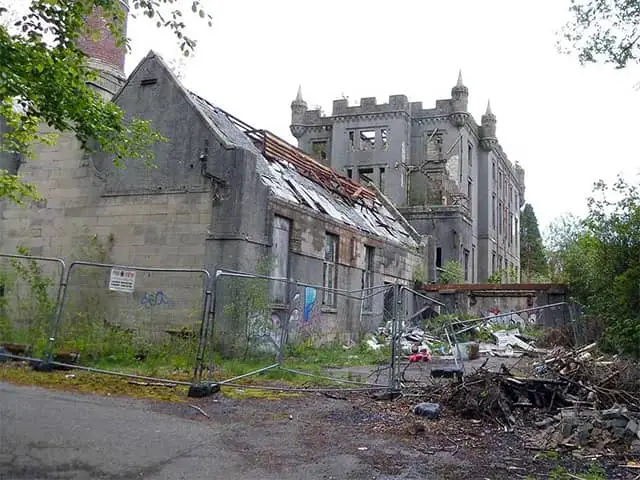 Following the hospital's closure, the building was owned by a private individual with the intention of converting it into a care home for the elderly. However, this was never completed, and the building fell into disrepair. A major fire in 1995 destroyed the entire interior and caused extensive damage to the roof. As a result, the council stepped in and began work to make the house safe. To keep the building from collapsing, much of it had to be demolished or reinforced.
Follow us on Facebook and Pinterest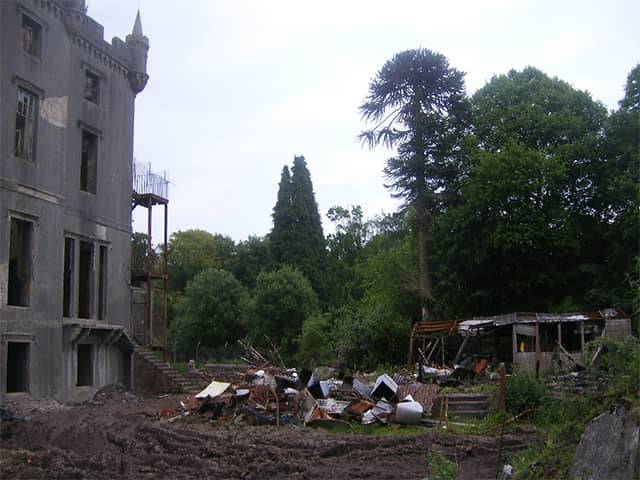 Caldwell House is now a hollow shell of what it once was, with no roof, bare walls, and only steel beams holding it together. Graffiti covers the walls, and local wildlife has taken refuge inside.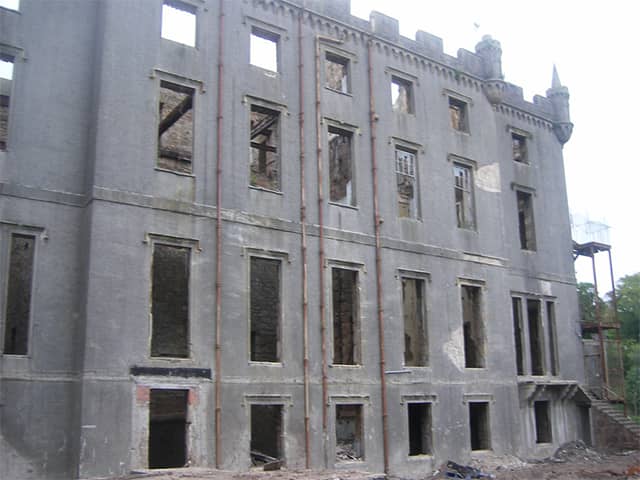 When I posted my pictures, a former boss of mine commented on one of them. It turns out that when she was born (1960s), she had a sister who'd been staying at the house at the time, back when it was a hospital, of course. Due to the sensitivity of the situation, I was unable to obtain much information, but her sister died inside the house.
My first thought was, "Wow, amazing, she has a real connection to the building." Of course, she is devastated by her sister's death, but now that she knows the construction is still standing, she intends to visit it and see where her sister lived. Isn't that a great way to end the story? Reconnecting with the past.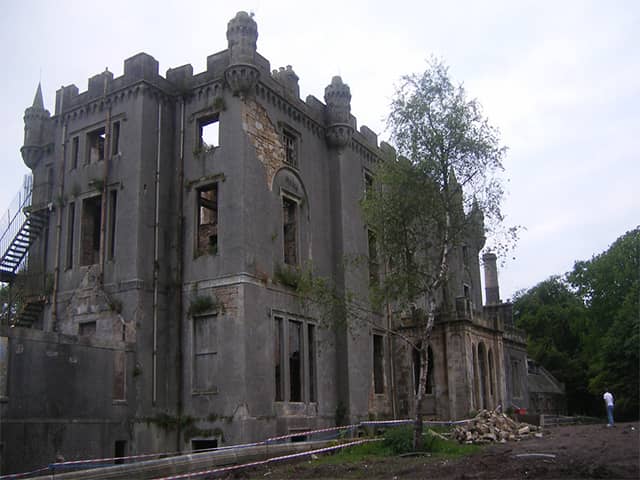 It was a fun adventure, but the melting snow slowed us down and made the nursing home area very damp. It would be nice to return in better weather when the area has dried out a little.
Read another article about: Gary Indiana, has become a ghost town.