The unique spot in Bangkok's outskirts has become a tourist attraction. An airplane graveyard has been created from debris of aircrafts that were left on wasteland since 2010. It is even mentioned in Google Maps.
NEXT TO AN AUTOBODY SHOP in Bangkok's Ramkhamhaeng Road are two MD-82 aircrafts and an abandoned 747. Apart from the strange sight of huge planes along the side of the road you will also be looking at a makeshift house.
Airplane Graveyard has been home to junk planes since January 2010, when they were first identified as two Boeing 747 nose sections. In January 2014, two MD-82 jetliners were added to the yard that were previously operated by Orient Thai Airlines.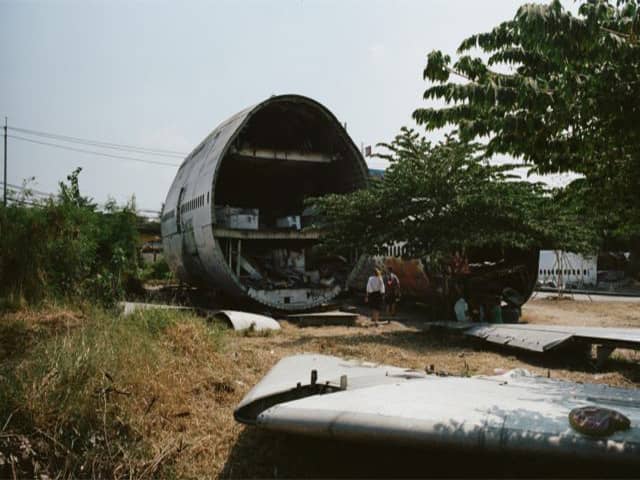 The MD-82 model was involved with a fatal crash that killed 89 people at Phuket International Airport in 2007. This could explain why they were being phased down. In 2015, a 747 was added to the fleet. Three families from Thailand had settled in and converted the planes into temporary homes.
Local businessman is said to have been selling parts of the planes as dross. The interiors and grounds are littered in flight magazines, oxygen masks and life vests.
Join us in Facebook: Weird stuff on the World
Families who live in scrap planes have made every effort to make them comfortable by decorating and adding new features.
From stacked tires, steps have been made into the planes, curtains have been draped around the windows, and photos of the Thai king have also been taped inside.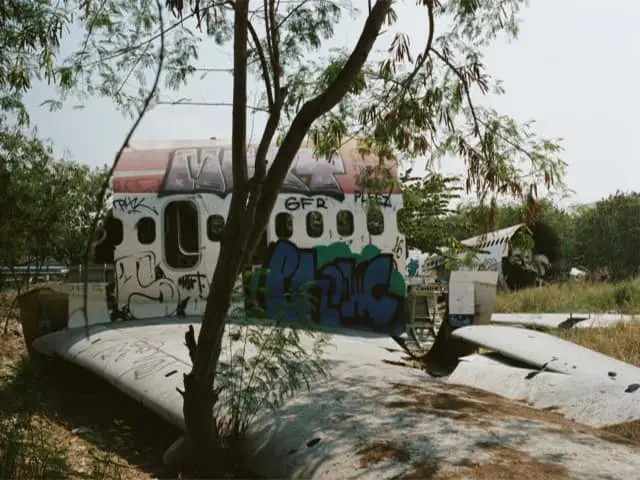 Families who live there claim it is much more pleasant than living on the streets. They also say that they make more money by selling used items to local recycling stations and charging tourists for entry fees to the planes.
Reports vary from 100 to 800 Baht per person. The fee isn't fixed and can fluctuate over time. Respect locals and ensure that everything is left in its original condition when you leave. If their curtains or doors are drawn, do not bother them.
Follow us on Facebook
Although technically the property is private, it seems that the family and the owner have reached an agreement. You can stop the security at 100 baht to make it less private.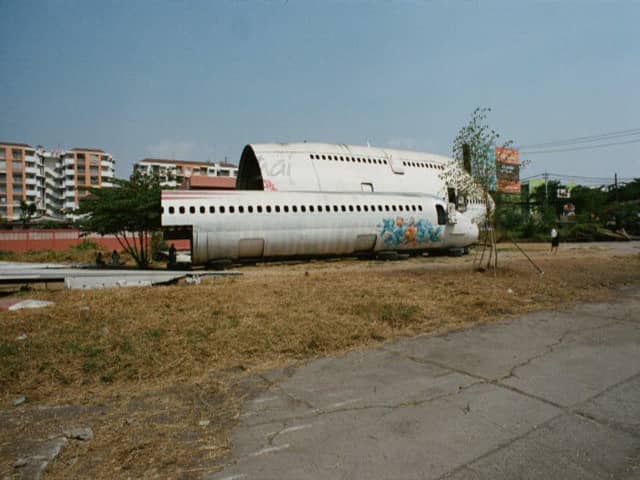 It is just off Ramkhamhaeng Road, near a car repair shop. Here you will find an abandoned Boeing 747, and two smaller McDonnell Douglas MD-82 aircraft.
It was used by Orient Thai Airlines to operate MD-82 aircraft. However, this model was eventually retired following a 2007 plane crash at Phuket Airport that resulted in the deaths 89 people.
A local businessman owns the property where this aircraft graveyard is situated. He disassembles planes and sells valuable parts. There are no interior panels, seats, or air compartments.
Life vests, magazines, and life savers were deemed not sufficiently valuable to be sold and are now scattered across the floor. A small plane's cockpit is still intact. This gives you great photo opportunities for anyone who wants to play captain.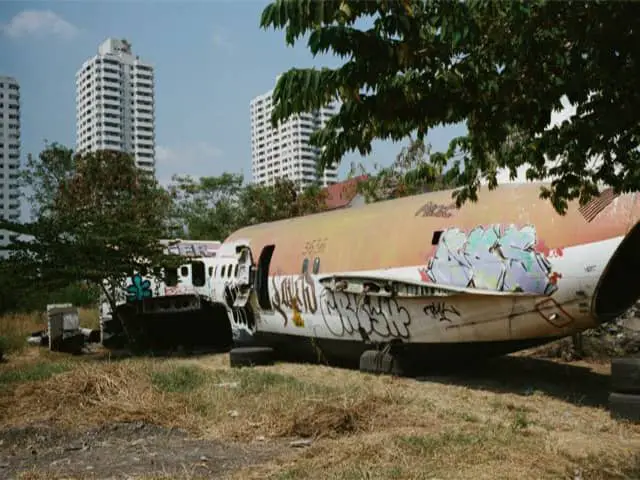 Because the land is privately owned, it is illegal to enter without permission. This hasn't stopped curious people from visiting the site.
Locals have built shelters in sheds nearby and inside the planes. It is likely that there are three Thai families who live there. To get to the planes, they have built steps from stacked tires.
Locals claim that living in a plane is better than living on the streets. Their main source of income is from collecting unwanted items and selling them at a nearby recycling centre. However, they also receive admission fees from tourists and curious locals who wish to take photos and look at the planes.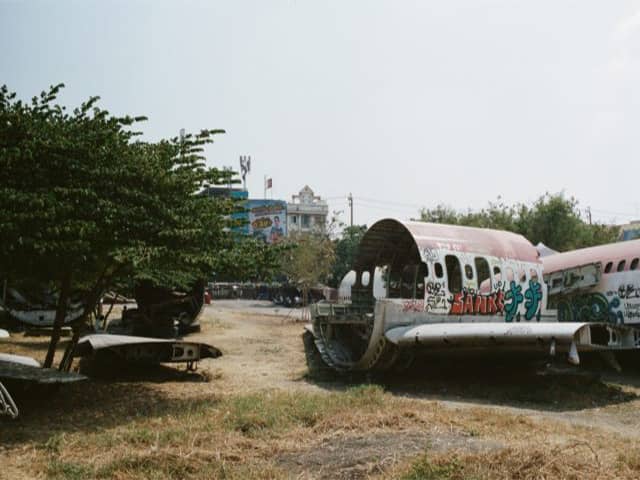 The fee is between 100 and 300 Baht. 150 Baht is approximately $4. It is possible to pay as high as 800 baht.
Visitors are asked to respect the privacy of residents and not enter their homes without permission. It is common to hang curtains in windows or spaces that are used for living quarters. This makes them easily identifiable.
The aircraft's metal structures are extremely unstable and can pose a danger to anyone who enters them. There are many sharp corners and surfaces that can cause injury, so a panel or floor could easily fall.
The Bangkok plane graveyard is still a popular destination for urban exploration, despite safety concerns. Ramkhamhaeng Road, one of Bangkok's most busy thoroughfares, is best avoided during peak hours. You can also use the canal to reach the site.
Some adventurers reported being turned away by Thai families at the gate. Access is not always guaranteed.
Rumors suggest that there is a major construction project in the area to build a subway. This could mean that this unique and unforgettable Bangkok experience will be lost.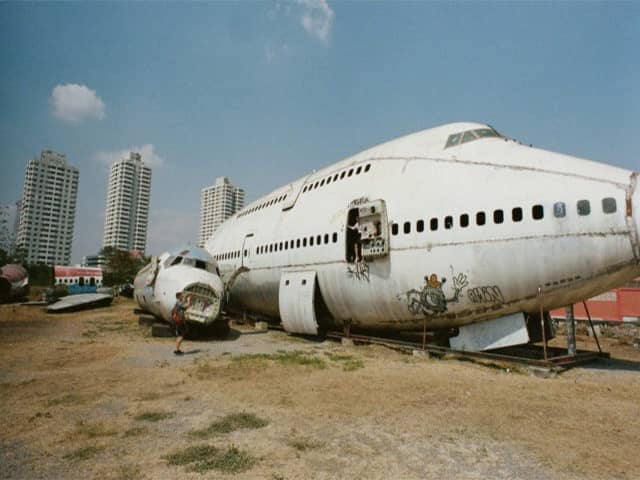 Sean has graciously allowed us to share these incredible photos of the aircraft cemetery. You can see more of his work on his beautiful Instagram page. Sean is available to sell prints of his photographs.
Make sure you are prepared before you go
The most convenient route to the Airplane Graveyward is via the canal taxi which runs along Klong Saen Saep. You can take a boat east towards Wat Sriboonruang, Ramkamhaeng Soi No 107.
Continue on to the main road. Turn right and continue for two blocks. Soi 103 is the location of the Airplane Graveyard. To avoid the sauna-like cockpits, arrive early and pay an admission fee of 100 to 800 baht.
Read more from us: St. Elmo, Colorado: Best Preserved Rocky Mountain Ghost Town